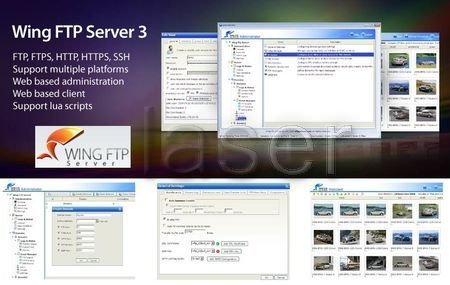 Wing FTP Server v3.4.5 Corporate Edition Multilingual | 8.27 Mb
Wing FTP Server is not only a FTP server. It's a multi-protocol file server (FTP, HTTP, FTPS, HTTPS, SFTP) The server has real-time information function, letting you monitor your file server in real time, keeping an eye on each user connected to the server and collecting detailed information about them .
It offers email notification and event manager,allowing the program to respond to different events, such as file upload or download by sending a default notification email to the administrator automatically. It includes a new set of advanced tools (web based remote control, web based client, administrator console, task scheduler) .
It provides scripts support let users extend the server by Lua language virtual directories for easy sharing files and directories, and ratio disk quota system for controlling how much an user or a group uploads and downloads .
Major Features:
* Cross Platform
You can run the server on Windows, Linux, Mac OS, Solaris and FreeBSD.
* Multiple Protocols
Support FTP, FTPS(FTP over SSL), HTTP, HTTPS, and SFTP(FTP over SSH).
* Web Based Administration
Administrate your server from anytime, anywhere.
* Web Based Client
Access your files from anytime, anywhere.
* Multiple Domains
You can run multiple virtual servers on the same IP address.
* Task Scheduler
Use your Lua Scripts tasks to appoint an action at a specified time.
* Programmable Event Manager
Execute Lua Scripts, send out emails and implement third-party software.
* Database Storage
Database storage of accounts information via ODBC or MySQL.
* Application Programming Interface
Provide a set of APIs that can be called in Lua Script.
* Virtual Directories
Allows you to map virtual directories to physical directories, and you can also use UNC path or mapped drives for virtual directories.
* Real-Time Information
Give you the ability to monitor your FTP server in real-time. you can monitor each user connected to your server and gather detailed information about them (e.g. download speed, last command, online sessions).
* Ratio, disk quota system
Every user can be assigned individual disk quota, ratio and bandwidth.
* Multiple Languages
Now support 12 languages .
The Web Client contains basic functions like Windows Explorer and brings below major features to you:
Support for iPhone. - If you have a iphone or ipod touch, you can easily access files with Web Client for iphone.
Multiple Files Upload/Download - You can easily upload or download multiple files at the same time.
Thumbnail View Mode - Allows you to see small images representing the contents of any file without having to download the entire file.
Online Text Editor - You can easily view or modify a text file with online text editor.
Search For Files - Allows user to recursively search for files using exact filename matches or wildcard matches.
Picture Viewer - You can view PNG,JPG,GIF,BMP photos in the picture viewer or play them as slide show.
iNSTALL NOTES
1.)Unpack and install
2.) Copy cracked file(s) over original(s)
3.) Enjoy!
download Link:
http://ugotfile.com/file/1415665/Wing.FTP.Server.v3.4.5.Corporate.Edition.Multilingual.WinAll.Cracked-CRD.rar?rid=112576